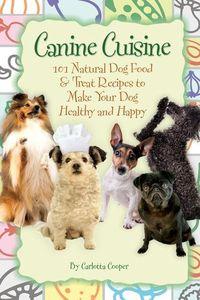 Canine cuisine:101 natural dog food & treat recipes to make your dog healthy and jappy
點閱:1
作者:by Carlotta Cooper
出版年:c2012.
出版社:Atlantic Publishing Group, Inc.
ISBN:978-1-60138-799-8 ; 1-60138-799-7
書籍內容簡介
Dogs have one of the least developed senses of taste of any domesticated animal; if you ve ever found your best friend digging around in your garbage, you know just that. But, just because they cannot taste what you feed them does not mean you shouldn t feed them the very best, healthiest food, both for their health and for your own peace of mind.
章節目錄一覽
Cover(第1頁)
Title Page(第2頁)
Copyright page(第3頁)
humane page(第4頁)
Dedication(第6頁)
Acknowledgments(第7頁)
Table of Contents(第8頁)
Introduction(第9頁)

Concerns About Commercial Pet Foods(第10頁)
Making Your Own Pet Food(第11頁)
In This Book(第12頁)
A Word From The Author(第13頁)

CHAPTER 1: Facts About Commercial Dog Food(第14頁)

Dog Food — A History(第15頁)
What's in Your Dog's Food?(第16頁)
Slaughterhouses, Rendering, and the "4 Ds"(第17頁)
Commercial Dog Foods and Your Dog's Needs(第18頁)
The Bottom Line(第19頁)

CHAPTER 2: A New Alternative(第20頁)

The Benefits and Challenges of Making Homemade Food for Your Dog(第21頁)

CHAPTER 3: Dog Nutrition(第22頁)

The Basics of Canine Nutrition(第23頁)
The Dog's "Natural" Diet(第24頁)
Diet and Your Dog's Health(第25頁)
The Raw Diet versus The Cooked Protein Diet(第26頁)
Going to the Vet(第27頁)
Nutritional Guidelines and Tables(第28頁)
Supplements, Vitamins, Minerals, and Enzymes(第29頁)
Foods Your Dog Should Not Eat(第30頁)

CHAPTER 4: Before You Start(第31頁)

Veterinarians and Canine Nutritionists(第32頁)
For Your Kitchen(第33頁)
Switching to the New Diet(第34頁)

CHAPTER 5: Basic Mealtime Recipes(第35頁)

Recipe #1: Chicken and Broccoli(第36頁)
Recipe #2: Pork and Beans(第37頁)
Recipe #3: Pasta Feast(第38頁)
Recipe #4: Beef and Chicken(第39頁)
Recipe #5: Turkey and Gravy(第40頁)
Recipe #6: Potluck(第41頁)
Recipe #7: Chicken and Melon(第42頁)
Recipe #8: Liver Lover's Dinner(第43頁)
Recipe #9: Tuna Casserole(第44頁)
Recipe #10: Salmon and Rice(第45頁)
Recipe #11: Favorite Salmon Dinner(第46頁)
Recipe #12: Mackerel Dinner(第47頁)
Recipe #13: Scrambled Eggs and Mackerel(第48頁)
Recipe #14: Salmon and Pasta(第49頁)
Recipe #15: Cheese Omelet(第50頁)
Recipe #16: Beef and Sweet Potato(第51頁)
Recipe #17: Chicken and Cottage Cheese(第52頁)
Recipe #18: Chicken Stew(第53頁)
Recipe #19: Beef and Rice(第54頁)
Recipe #20: Doggy Quiche(第55頁)
Recipe #21: Turkey Balls(第56頁)
Recipe #22: Doggy Meatballs(第57頁)
Recipe #23: Broccoli and Chicken Balls(第58頁)
Recipe #24: Salmon Patties(第59頁)

CHAPTER 6: Recipes For Special Conditions(第60頁)

Puppies(第61頁)
Pregnancy(第62頁)
Recipe #25: Weaning Formula(第63頁)
Senior Dogs(第64頁)
Overweight Dogs(第65頁)
Recipe #26: Chicken and vegetables(第66頁)
Recipe #27: Beef pasta(第67頁)
Recipe #28: Lean but not mean meal(第68頁)
Recipe #29: Chicken and fruit(第69頁)
Dogs with Food Allergies(第70頁)
Recipe #30: Tasty duck(第71頁)
Recipe #31: Buffalo and barley(第72頁)
Recipe #32: Buffalo stew(第73頁)
Recipe #33: Lamb and rice(第74頁)
Recipe #34: Chicken and sweet potatoes(第75頁)
Dogs with Bad Breath(第76頁)
Recipe #35: Cure for bad breath meal(第77頁)
Recipe #36: Turkey and rice(第78頁)
Recipe #37: Mint chicken(第79頁)
Digestive Problems(第80頁)
Recipe #38: Low-fat chicken broth(第81頁)
Recipe #39: Bad tummy meal(第82頁)
Dogs with Kidney Problems(第83頁)
Recipe #40: Lamb and kidneys(第84頁)
Diabetic Dogs(第85頁)
Recipe #41: Beef and barley(第86頁)
Recipe #42: Beef and vegetables(第87頁)
IBD Diets(第88頁)
Breed-Specific Diet Requirements(第89頁)

CHAPTER 7: Portions — How Much and How Often?(第90頁)

How Much to Feed?(第91頁)
How Often Should You Feed?(第92頁)
Multiple Dogs(第93頁)

CHAPTER 8: Treats, Snacks, and Special Occasions(第94頁)

Buying Healthy Treats for Your Dog(第95頁)
Making Homemade Treats for Your Dog(第96頁)
Tips and Tricks for Making Dog Treats(第97頁)
Quick and Easy Dog Cookie Recipes(第98頁)
Recipe #43: Peanut butter and pumpkin dog treats(第99頁)
Recipe #44: Minty breath cookies(第100頁)
Recipe #45: Turkey gobble cookies(第101頁)
Recipe #46: Deluxe tuna cookies(第102頁)
Recipe #47: Special liver treats(第103頁)
Recipe #48: Sweet potato cookies(第104頁)
Recipe #49: Pumpkin cookies(第105頁)
Recipe #50: Peanut butter cubes(第106頁)
Recipe #51: Banana and pumpkin squares(第107頁)
Recipe #52: Peanut butter and carob cookies(第108頁)
Recipe #53: Peanut cookies(第109頁)
Recipe #54: Banana and oat cookies(第110頁)
Recipe #55: Mock-choc cookies(第111頁)
Recipe #56: Apple cinnamon cookies(第112頁)
Recipe #57: Peanut butter oatmeal cookies(第113頁)
Recipe #58: Deluxe oatmeal cookies(第114頁)
Recipe #59: Ginger cookies(第115頁)
Recipe #60: Carob chip cookie(第116頁)
Recipe #61: Autumn cookies(第117頁)
Recipe #62: Double cheese cookies(第118頁)
Recipe #63: Bacon and liver cookies(第119頁)
Recipe #64: Bacon and cheese cookies(第120頁)
Recipe #65: Liver and cheese cookies(第121頁)
Recipe #66: Molasses and oatmeal cookies(第122頁)
Recipe #67: Liver and oatmeal cookies(第123頁)
Recipe #68: Doggy pâté(第124頁)
Recipe #69: Tuna and cheese cookies(第125頁)
Recipe #70: Fish treats(第126頁)
Recipe #71: Tuna training treats(第127頁)
Recipe #72: Cheese cookies(第128頁)
Recipe #73: Whole wheat cookies(第129頁)
Recipe #74: Bacon biscuits(第130頁)
Recipe #75: Homemade Frosty Paws®(第131頁)
Recipe #76: Frosty Paws (alternate version)(第132頁)
Special Occasion Treats(第133頁)
Dog Birthday Cakes(第134頁)
Recipe #77: Bacon chicken layer cake(第135頁)
Cakes(第136頁)
Recipe #78: Carob chip bundt cake(第137頁)
Recipe #79: Peanut butter carrot cake(第138頁)
Recipe #80: Ginger banana party cake(第139頁)
Recipe #81: Banana and mock-choc frosting(第140頁)
Decorating Tips for Treats, Cakes, and Cookies(第141頁)
Cupcakes and Muffins(第142頁)
Recipe #82: Blueberry muffins(第143頁)
Recipe #83: Peanut butter and banana cupcakes(第144頁)
Recipe #84: Pumpkin muffins(第145頁)
Recipe #85: Carob cupcakes(第146頁)
Recipe #86: Zucchini loaf(第147頁)
Recipe #87: Banana cupcakes(第148頁)
Recipe #88: Blueberry oatmeal muffins(第149頁)
Recipe #89: Apple-cinnamon muffins(第150頁)
Recipe #90: Apple and carrot muffins(第151頁)
The Best Ingredients for Dog Treats(第152頁)
Recipe #91: Low protein/low fat/low phosphorus cookies(第153頁)
Favorite Treat Recipes(第154頁)
Recipe #92: Liver bread(第155頁)
Recipe #93: Liver brownies (and variations)(第156頁)
Recipe #94: Homemade Natural Balance® meat roll(第157頁)
Recipe #95: Turkey treats(第158頁)
Recipe #96: Salmon cookies(第159頁)
Recipe #97: Peanut butter treats(第160頁)
Recipe #98: Turkey sausages(第161頁)
Recipe #99: Peanut butter biscuits(第162頁)
Great Training Treats(第163頁)
Recipe #100: Liver bait(第164頁)
Recipe #101: Ma Barker biscuits(第165頁)

CHAPTER 9: Storage and Travel(第166頁)

Food Safety Guidelines(第167頁)
Storage, Serving, and Heating Suggestions(第168頁)
Feeding Your Dog While Traveling(第169頁)

CHAPTER 10: Wrap-Up(第170頁)

Is Homemade Working for Your Dog?(第171頁)
What If You Cannot Cook for Your Dog All the Time?(第172頁)

Conclusion(第173頁)
APPENDIX A: Nutritional Guidelines(第174頁)
APPENDIX B: Additional Resources(第175頁)
Bibliography(第176頁)
Author Biography(第177頁)